Why does Medtronic support startups?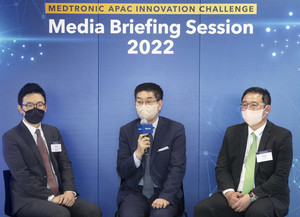 Medtronic Korea held a press conference on Thursday to introduce the top five winners of the "Medtronic APAC Innovation Challenge (MAIC)," announced March 16 in Singapore.
The challenge brought together 323 startups and companies from 46 countries in the Asia-Pacific region.
The five winners are MediThinQ, a Korean healthcare startup, Alimetry, The Clinician from New Zealand, CliKX and Imedrix from Singapore. The top five winners will receive opportunities worth up to $200,000 to market their solutions. In addition, if desired, it is possible to conduct joint research with Medtronic.
Chris Lee, president of Medtronic Asia Pacific, said that while Medtronic wouldn't gain much from supporting startups, there should be a "virtual cycle" that takes startup R&D to commercialization to accelerate technologies from health.
"Creating such an environment is Medtronic's vision," he said.
Medtronic Korea also released the Economist Impact white paper, "Asia Pacific's HealthTech Ecosystem: Enhancing start-ups and SME Success," published with support from Medtronic and the Singapore Economic Development Board. The report covered 150 startup executives working in 15 Asia-Pacific countries, including Korea, Japan, Australia and Singapore, from September to October 2021.
In the white paper, 55% of respondents recognized Covid-19 as an opportunity, not a hindrance, to execute and grow innovative ideas. They chose cooperation in several areas, including the public and private sectors, as a key factor in accelerating innovation.
Eighty percent said "hiring talent" was a top challenge for health tech startups.
The white paper demonstrated that Korea's healthcare startup environment is more mature than in other Asia-Pacific countries.
While 35% of early startups in the Asia-Pacific region said difficulty in obtaining funds was a major challenge, only 13% of Korean companies said so.
Regarding the interrelation between startups, 30% of Korean companies describe it as "both competitive and cooperative", while only 19% of those in the Asia-Pacific region say so.
The white paper can be viewed on Medtronic's website at "https://bit.ly/MDT-Whitepaper".
MediThinQ, the only Korean startup to make the top five, received the award for its digital health solution, SCOPEYE.
Founded in 2018, MediThinQ develops medical imaging equipment and wired/wireless wearable smart glasses for surgery. SCOPEYE has received positive reviews due to its seamless compatibility with existing display equipment used by physicians without installing additional software.